Because The Pearl Thief made its debut in the middle of exams last May, we'd postponed doing a school tour in the UK until September, and I've just returned from a sweeping visit of Northeast England and the Midlands – three days, three cities, six schools, and around about 1500 teen readers. Most of the travel was by train, which is one of the things that is so awesome about living in the UK. I walked to the station in Perth, changed trains in Edinburgh and Newcastle, and arrived in Sunderland four hours later. VERY CIVILIZED IF YOU ASK ME.
Lizz Skelly, Bloomsbury's lovely Children's Publicity Manager, met me at our hotel on the Sunderland seafront, where we arrived in the midst of a howling gale. But it was bright and cloudless over the North Sea the next morning – I had exactly fifteen minutes on the beach before we headed to our first school! I need to share this picture of ACTUAL DOG FOOTPRINTS in the sand – dogs clearly have so much more fun than humans.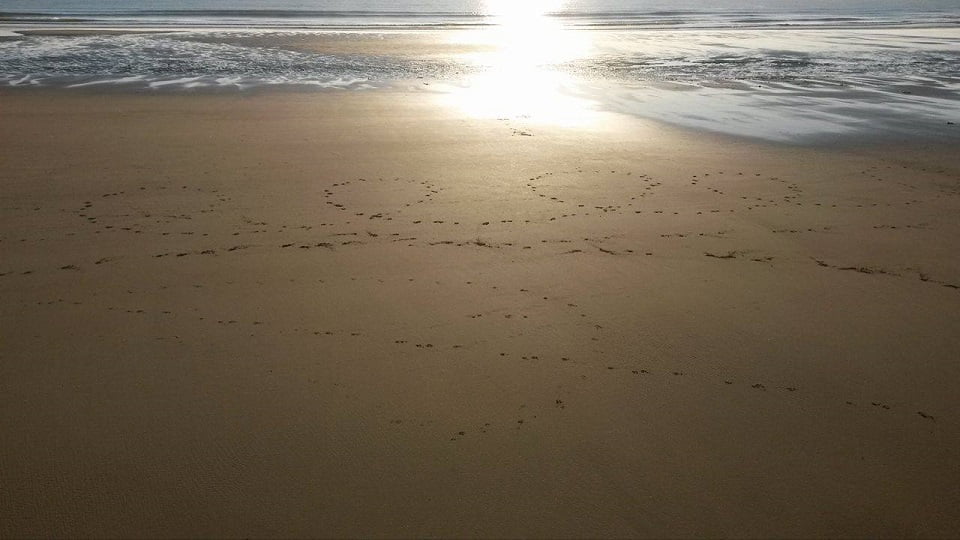 But humans know how to have fun, too. At St. Anthony's Girls' Catholic Academy we met Mariana Mouzinho, a dynamo of a bookseller representing Blackwells and extremely knowledgeable about the area schools. (Our taxi driver told us that Sunderland is bigger than Newcastle, and Mariana is responsible for both in terms of school book sales, so that's saying something.) At St. Anthony's we were welcomed by the school librarian Marguerite Jackson – I do enjoy a chance to encourage a roomful of girls to write and fly!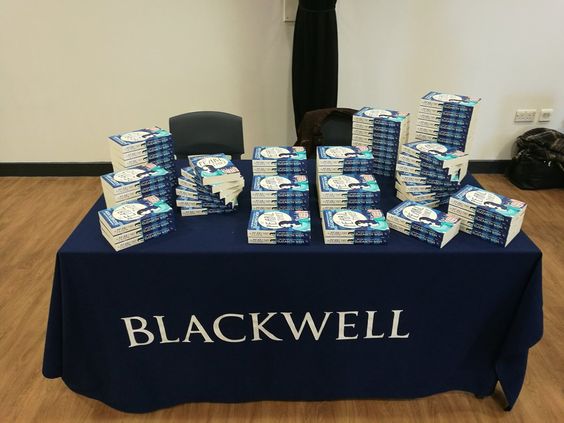 Mariana's amazing book set-up at St. Anthony's, Sunderland
At Thorp Academy in Ryton, we had a school dinner (quite a good one!) with our host, the Learning Resource Centre Manager, Beth Khalil. Then I got to entertain and be entertained by a big group of very enthusiastic Year 7s and a few Year 8s. Here, one student asked me if I'd ever been pearl fishing myself. I haven't, so I told Hilary McKay's pearl fishing story instead:
:: When i was little, 5 or 6, my dad showed me a pearl in a mussel he fished out of the river. It was about __ that big and pink.

Hilary McKay (@hilary_mckay), March 10, 2017

:: NO WAY. SO COOL.

Elizabeth Wein (@EWein2412), March 10, 2017

:: I dropped it in the long grass of the river bank. And we didn't look for another ever because we both agreed it was too cruel.

Hilary McKay (@hilary_mckay), March 10, 2017

:: My poor dad, he used to get up very early to go fishing & I used to think how awful, so lonely & early, & insist on going too…

Hilary McKay (@hilary_mckay), March 10, 2017

Thank you, Hilary!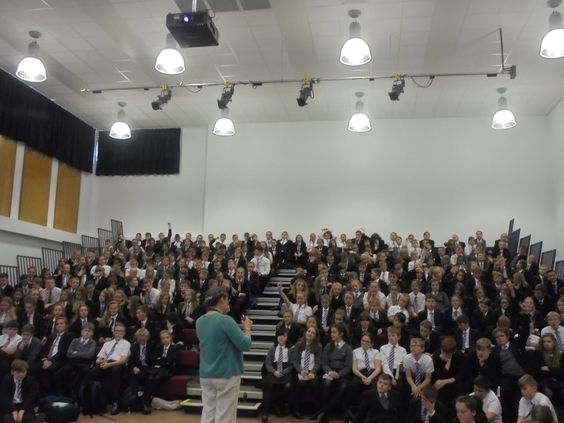 Thorp Academy Year 7s asking questions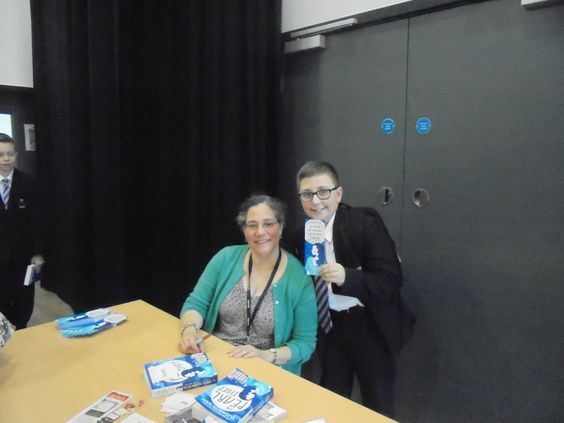 Matthew, Year 8 at Thorp Academy, waited patiently for the queue to die down so he could get this picture with me. 😀
Lizz and Mariana and I parted ways at the Newcastle rail station – Mariana on her way home, Lizz back to London and me on to Leeds. The taxi driver and I learned something from each other. I told him how I learned random facts from books, and used as an example the origin of the road name "Green Lane" – how it turned up in Dodie Smith's The New Moon With the Old and turned out to be an old cross-country byway from village to village, now preserved only in the name – and the cabbie said that he thought it must be the origin of a sport he'd just found out about called "green-laning," where you drive all-terrain vehicles off-road. (He was a great guy. He explained that he likes his reading short and sweet. No time for hooptedoodle.) (Actually, it was my use of the term "hooptedoodle" – which I believe was coined by John Steinbeck, for poetic filler in your text – that made the cabbie leap into the conversation.)
On Wednesday morning I was collected from my hotel by Debbie Moody, the Youth Librarian at the Leeds Central Library, who took me to the Roundhay School. There we were welcomed by Nazia Ansari and the librarian Emily Corley. They'd put together a fantastic display of my books and even presented me with a bunch of flowers for my efforts! The students I spoke to here were mostly Year 8s, a wonderfully attentive and lively group. Rory O'Connor of Orinoco Books gamely provided the book sales for the day's visits.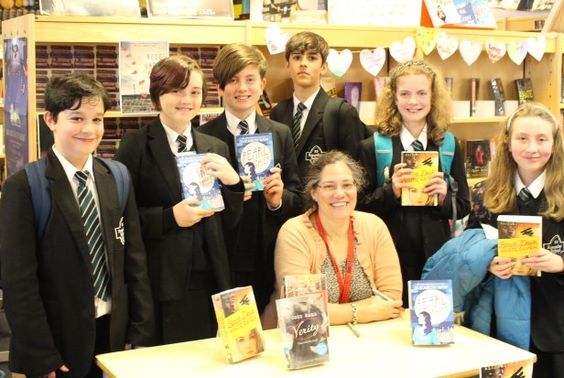 Roundhay readers
If I remember one thing from this trip ten years from now, I hope it is the Roundhay student who was too shy to speak to me himself – I had to get him to whisper his comment to his friend who spoke aloud for him. I'd asked if the kids had any experience with Travellers or of living without a fixed home. This boy turned out to have travelled to the UK from Syria.
When I heard this, I said, "WHOA. So I guess you know something about difficulty and living on the road – you must be very – "
I paused, struggling for an appropriate, inadequate word, and the kid from Syria supplied: "Unstoppable!"
And I said, "YEAH! UNSTOPPABLE! That is exactly the right word. Keep on going!"
What an amazing, wonderful thing it is that he is sitting in class, in school uniform, in Leeds. The absolute BEST of Britain. And I got to meet him.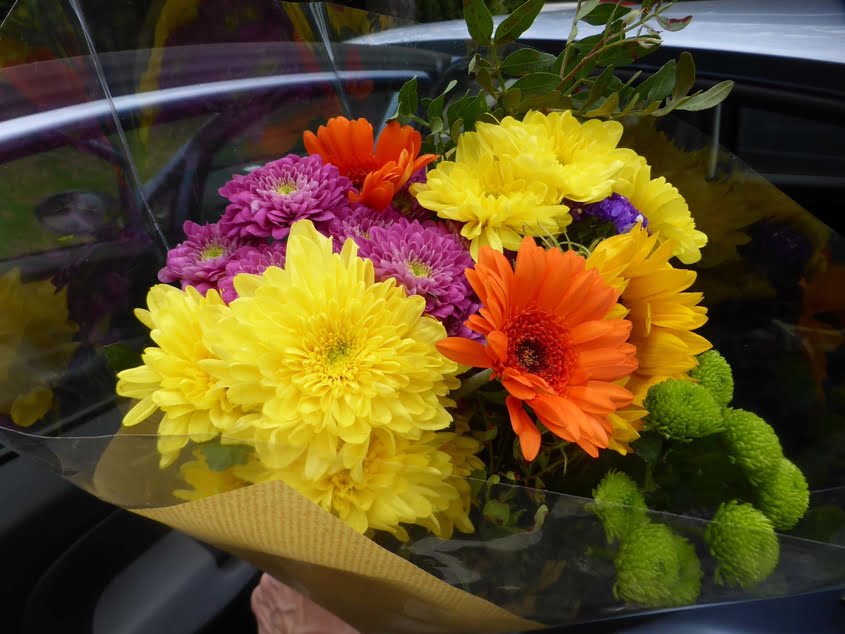 Flowers from Roundhay
Rounday have got a blog post about the visit here.
Debbie took me to lunch in a little café in Otley, West Yorkshire, before our next school, which was Prince Henry's Grammar School in Otley. This was a group of Year 9 students. The school has the distinction of having the best A-Level results in the Leeds area. Smart kids!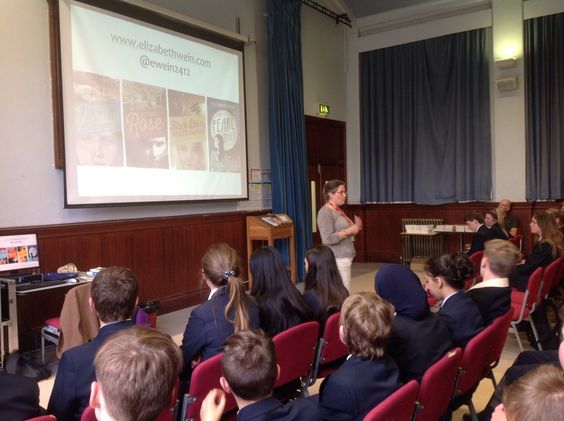 Speaking to Year 9s at Prince Henry's Grammar School, Otley
Ruth Wyss, the librarian there, enjoyed the coincidence of spotting a Spitfire – the kind with four wheels, not two wings – after one of the students asked me what my favourite World War II aircraft was and I'd waxed lyrical about the iconic beauty of Spitfires.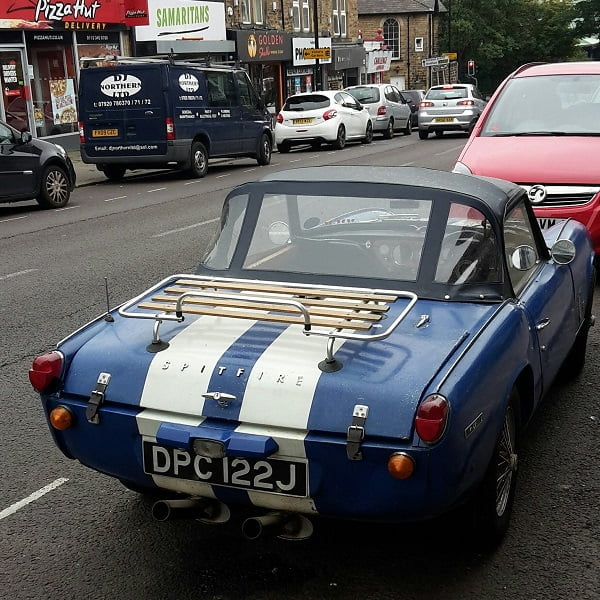 The kind with four wheels – wouldn't mind flying one of these, either!
So then I caught the train to Birmingham, where I spent the night, and after fighting our way through the commuter traffic the next morning, met up with Phyllis Gaunt of the Solihull Group of the Federation of Children's Book Groups. Phyllis was my guide and bookseller for the day, which we started by meeting Eileen Clitherow of the Lode Heath School. There, I spoke to two groups of Year 9 students in a couple of all-too-brief presentations, since there were too many students to bring together in a single session. Lode Heath also kindly provided us with sandwiches before we moved on, in a downpour as ferociously torrential as the one I'd started the week with in Sunderland.
Our final school of the trip was in Chelmsley Wood. Vera Gardner, the incredibly vibrant Learning Resources Manager at John Henry Newman Catholic College, welcomed us to her fantastic library and then I spoke to a group of about 300 Year 7s – among whom, for the first time, were half a dozen or so students who actually identified as Travellers. I was really delighted to hear that none of them felt any kind of social pressure because of this.
I got to meet a specially selected group of Year 9s afterward, and drink many cups of tea, and John Henry Newman even blogged about the event themselves.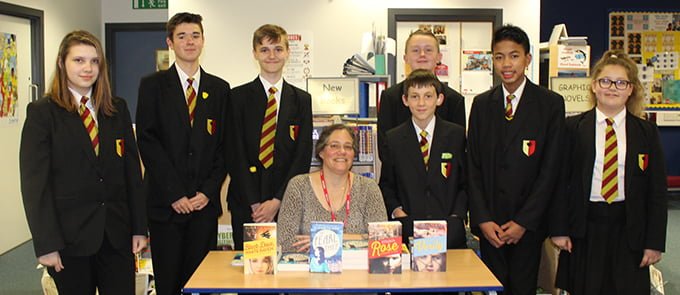 With Year 9s at John Henry Newman in Chelmsley Wood
And then Phyllis dropped me at Birmingham Airport, the only leg of the whole trip not made by public ground transport, which I think is kind of cool.
We flew along the west coast the whole way from Merseyside and Manchester to the Clyde before turning east to Edinburgh, through a clear sky and a glorious glowing sunset, and I knew where I was the whole time, which I also think is kind of cool.
"NOW THAT THINGS ARE BACK TO NORMAL, I CAN GET SOME REAL WORK DONE."
– Harriet (Welsch, not Vane)
(Louise Fitzhugh, Harriet the Spy)
(If you would like to leave a comment on this entry, it is crossposted to my Dreamwidth account here, where comments are enabled.)