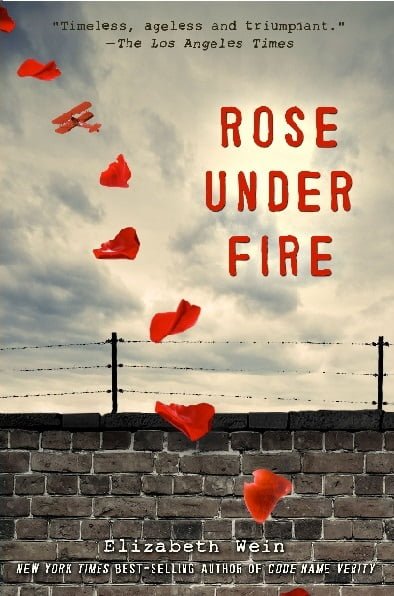 Rose Justice is a young pilot with the Air Transport Auxiliary during the Second World War. On her way back from a semi-secret flight in the waning days of the war, Rose is captured by the Germans and ends up in Ravensbrück, the notorious Nazi women's concentration camp. There, she meets an unforgettable group of women, including a once glamorous and celebrated French detective novelist whose Jewish husband and three young sons have been killed; a resilient young girl who was a human guinea pig for Nazi doctors trying to learn how to treat German war wounds; and a Nachthexen, or Night Witch, a female fighter pilot and military ace for the Soviet air force. These damaged women must bond together to help each other survive.
In this companion volume to the critically acclaimed novel Code Name Verity, Elizabeth Wein continues to explore themes of friendship and loyalty, right and wrong, and unwavering bravery in the face of indescribable evil.
Awards:
2014 Schneider Family Book Award
2014 Josette Frank Award
2014 Boston Globe/Horn Book Award Honor Book
2014 Golden Kite Award Honor Book
Shortlisted for the 2015 UK Literacy Association Award
Shortlisted for the 2014 Costa Award (Children's)
ABA Indies Choice Award Honor Book (Young Adult), 2014
Audie Award Finalist (Teen), 2014
Rose Under Fire was chosen as Central Pennsylvania's "One Book, One Community" read across six counties and over 90 libraries in Spring 2017.
Links to interviews and guest blog entries in connection with Rose Under Fire appear below.
2014 Boston Globe Horn Book Award Honor Speech
Character Interview with Lisette Romilly for Shae Has Left the Room, 12 Sept. 2014
Authority and Authenticity: Guest Post for The History Girls, 29 Dec. 2013
Interview and Review for Sarah Laurence's blog, 5 Sept. 2013.
Interview with Audiofile Magazine, 1 Aug. 2013.
First Look with Sue Corbett for Publishers' Weekly, 13 June 2013