(originally posted 21 September 2011)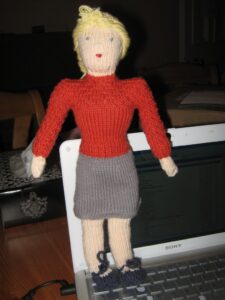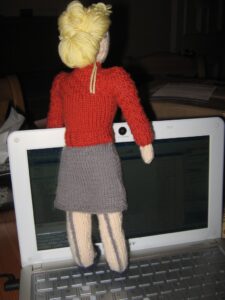 For the uninitiated, WAAF stands for Women's Auxiliary Air Force (and it's pronounced waf to rhyme with laugh if you're American, or to rhyme with caff' if you're British).  Another friend (not the knitting one) sent me this knitting pattern for my birthday last year.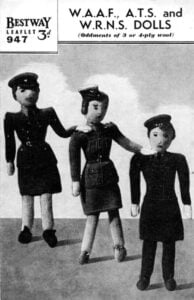 I'm pretty sure she picked it up at the Vintage Knitting Lady, whose website is unfortunately now shut down.
I have actually made 3 dolls using this pattern (more or less), each one departing further from the original 'Finella, Knitting Expert of Wife and Home Magazine' pattern.  (I do not know if Finella is a real person.  But I have followed a couple of her patterns.)  This first doll I made as a gift.  She is about 12 inches tall.  And here she is.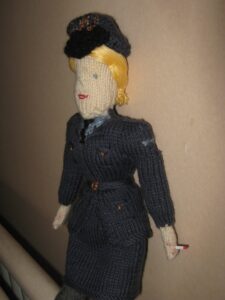 I don't know why I started on the Accessories.  But I kinda went accessory crazy.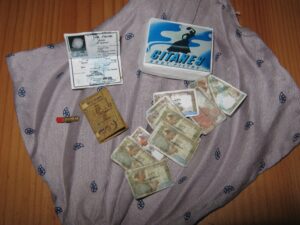 The pencils, lipstick and cigarettes are all made out of toothpicks.  The headset is made out of a pair of Continental earbuds (we have got a collection of about 4 dozen of these useless objects).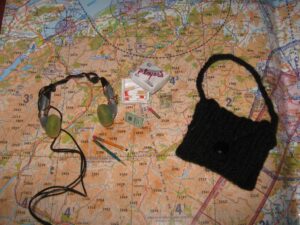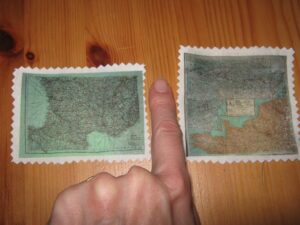 Make Do and Mend…
Knitted on a gazillion UK size 12 needles (2.75 mm / US size 2).  The pattern keeps requiring you to leave legs, bits of tunic, skirts, etc. 'on a spare needle.'  I think it calls for 'oddments' of yarn, and I did not actually purchase any specially to make this, although I did use an entire ball of Debbie Bliss baby cashmerino 'French Navy' (being a rather darker version of Air Force Blue) for the uniform, which was technically supposed to be earmarked for my Finella WAAF pullover.  As a result I think I had to buy some more.  The hair is embroidery floss.
(The removable French knickers, made out of lace edging, are my favourite feature of this wee wireless operator. It appeals so deeply to the five-year-old in me.)