(originally posted 20 September 2011)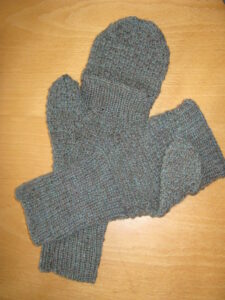 I'd not done any knitting for about 14 years when a friend pointed me to this pattern.  I worked on these mittens while writing the last half of CNV and came to associate them with Maddie Brodatt so strongly in my head that I put them in the novel.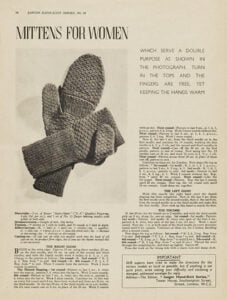 The mittens turn out to be part of an up-to-the-minute trend in that they have flaps that flip back so you can free your fingers.
The pattern, and the second image reproduced here, are from a booklet called Essentials for the Forces by Jaeger Handknit, dating to the 1940s, available on the Victoria & Albert Museum website here (the pattern for Maddie's mittens is the PDF called "Mittens for Women"):
http://www.vam.ac.uk/content/articles/0-9/1940s-knitting-patterns/
The first image is of my finished mittens.  I wear them at my desk because my house is so dang cold.
Make Do and Mend…
For anyone who's actually interested in the knitting experience… This was the first time I used an old pattern – it dates to the 1940s.  The needles and yarn I used probably date to the 1970s.  It was also my first experience knitting in the round on 4 needles.  I actually really like doing this.  The pattern calls for "2 oz. of Jaeger "Super-Spun" ("J.S." Quality) Fingering, 4-ply (9d. per oz.), and 1 set of No. 13 Jaeger knitting needles with points at both ends."  I have no idea what "2 oz. of 4-ply" translates to in modern English, because the yarn I used was SO OLD it actually said on it "2 oz. 4-ply."  Likewise, I used an old set of British No. 13 needles.  I have since knit 2 more pairs of mittens like these, using 2.25 mm needles (US 1) and Debbie Bliss Baby Cashmerino yarn (1 ball per mitten at 50 g / 125 m).