(originally posted 20 September 2011)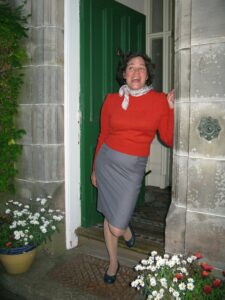 This was Knitting Project No. 2.  Its namesake sweater has a personality in its own right in CNV, but mine did not exist in reality until several months after the book was finished. 
There was some debate over what the sweater would actually look like. My knitting friend and I turned up this website called The Vintage Knitting Lady, which provided a glory of 1940s knitting patterns from the UK available in PDF form, unfortunately now shut down.
I favored this pattern, Bestway 1963,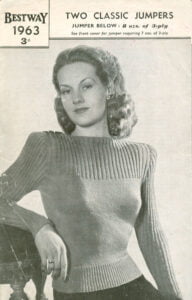 and my friend favored Bestway 1605.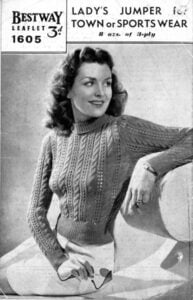 I believe that, like Text, the actual sweater is open to individual reader interpretation.  There is no definitive version and I chose mine based on the fact I thought it would look pretty good on me.
I made the skirt, too!  But it is from a modern pattern and technically doesn't conform to wartime standards in the UK because 1) it has a 'slide fastener' (ie, a zip), and 2) it has SEVEN SEAMS and you were ONLY ALLOWED TO HAVE SIX.
British wartime dressmaking rules available here:
https://www.iwm.org.uk/history/how-clothes-rationing-affected-fashion-in-the-second-world-war
Make Do and Mend…
I used UK size 10 & 12 needles as per the instructions, which are 3.25 mm / US 3 and 2.75 mm / US 2.  I bought old style UK needles for something stupid like 20 pence each at a charity shop.  The yarn requirement, however, was WAY out in terms of weight, length, whatever.  I am not a knitting blogger and I'm making this up as I go along, so believe me when I say I had to figure out THE HARD WAY how much yarn to use.  I ordered it in THREE goes and fortunately they were all from the same dye lot.  In the end, knitting to the exact instructions of this pattern, I used 10 balls of Debbie Bliss baby cashmerino (where one ball is 125 m / 50 g).  The color is 'Burnt Orange' and is now discontinued.
The buttons are Czech glass (but not vintage).