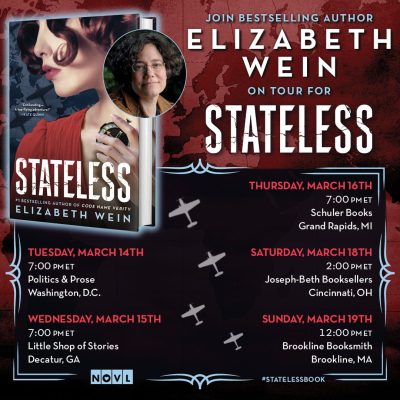 Tuesday, 14 March 2023: Washington, D.C., Politics & Prose, 7.00 p.m.
I think I've done an event for every single one of my books at Politics & Prose since 2012, and they've been supporting me since I published my first novel The Winter Prince in 1993. Our last event was online, so it will be fantastic to be there again in person discussing Stateless!
The event is free and seating is first come, first served. More details are available here: https://www.politics-prose.com/event/book/elizabeth-wein-stateless-conn-ave-in-children-and-teens-department 
Wednesday, 15 March 2023: Decatur, Georgia, Little Shop of Stories, 7.00 p.m.
I am so excited to be visiting Little Shop of Stories in person again, for the first time in many years. These are the folks who included Code Name Verity in their gift basket for the Obamas!
I'll be talking about my new novel, Stateless, on March 15th at 7:00 PM. To make things more exciting, they're organizing a game of Sleuths vs Saboteurs during the event!
Admission is free, but you do have to register for a ticket. The bookstore requests that you purchase your copy of Stateless from them if you want to get it signed at the event.
More details, tickets, and preorder information are available here: https://www.eventbrite.com/e/elizabeth-wein-stateless-tickets-532133414367
Thursday, 16 March 2023: Grand Rapids, Michigan, Schuler Books, 7.00 p.m.
Schuler Books are the folks behind the viral TikTok viewed by 20.6 million people in which their bookseller Claire raved about Code Name Verity, causeing warehouse stocks to sell out. I'm delighted to be returning the favor by visiting them in person to talk about Stateless.
The event is free but they'd like you to register via Eventbrite so they have some idea of numbers. Details, links, and preorders are available on their website, here: https://www.schulerbooks.com/event/stateless-book-event-elizabeth-wein 
Saturday, 18 March 2023: Cincinnati, Ohio, Joseph-Beth at Rookwood Pavilion 2.00 p.m.
This independent bookstore has its thirtieth birthday this year and I get to celebrate by visiting them for a discussion and signing of Stateless. Please join us too if you're in the area!
More details and RSVP form at the following links:
https://www.josephbeth.com/event/elizabeth-wein-discussing-and-signing-stateless
 https://www.facebook.com/events/joseph-beth-cincinnati/elizabeth-wein-discussing-and-signing-stateless/875942660349831/
Sunday, 19 March 2023: Brookline, Massachusetts, Brookline Booksmith, 12.00 noon.
This author event and booksigning is available with ASL translation if you give them two weeks notice! Details on the venue, event tickets, and book preorders are available here:
https://www.eventbrite.com/e/elizabeth-wein-stateless-tickets-557069418627
The onsite event will also be livestreamed on Brookline Booksmith's YouTube channel, here:
https://www.youtube.com/brooklinebooksmith
Note: All times are local.