This year my novel Rose Under Fire was chosen as Central Pennsylvania's "One Book, One Community" read across a six-county region including over 90 libraries. The program is described in detail here. It's essentially a great big geographically-organized book club, based on an idea that originated in Seattle in 1998. In Central PA, the campaign really got off its feet in 2004 when a couple of two-county groups combined their readerships. This is the twelfth year for a collaboration of library systems in Berks, Dauphin, Lancaster, Lebanon, Perry and York Counties, along with several college libraries and the Pennsylvania State Library.
Needless to say, to have any book be chosen for this initiative is a phenomenal honor – and if I'd been able to wish this for any of my books, it would have been for Rose Under Fire. TELL THE WORLD! That was what the doomed prisoners at the Ravensbrück concentration camp shouted to their surviving companions as they were dragged to the gas chamber. Tell the world: the need to tell the world is what kept Ravensbrück's victims of Nazi experimentation from despair in their darkest hours of imprisonment. Rose Under Fire is my own small attempt to tell the world what happened at Ravensbrück, and One Book, One Community has amplified my voice – and by extension, the voices of all the women, living and dead, who were imprisoned at this often-forgotten Nazi concentration camp.
During the first week of April 2017, I went along to a number of events connected with OBOC in Lebanon, York, Dauphin, and Berks Counties. Part of what made this mini-tour so wonderful was the fact that I was in my home territory – like my character Rose, I grew up in Central Pennsylvania. Rose's fictional hometown is a thinly disguised Lebanon, PA. No doubt this hometown connection was part of the attraction for area readers – so in the Q&A I'd get really localized questions like, "Why did you include the paper box factory?" and "Who was your instructor at Reigle Airfield?" And my favorite comment: "This is the first book I've ever read that mentioned opera fudge!" In fact opera fudge doesn't get mentioned in the book – that was either a test to see if I really am a local girl who knows what opera fudge is, or I did my job so well that the reader is lulled into the false impression that I sneaked opera fudge in there along with the Lebanon bologna, shoofly pie, fasnachts, and Cope's dried corn.
The two big events of the week were an author talk at Congregation Beth lsrael in Lebanon, and a Readers' Celebration held at the Reading Regional Airport. The Beth Israel talk was organized by Judith and Joe Clark, who'd invited me to appear as their annual speaker. They were superb hosts, taking me and my aunt and uncle to dinner at the Lebanon Country Club and putting me up for the night in the nearby Patriot House bed & breakfast in Annville – which just happens to have been built and owned by my great-great-great-grandfather, the town's nineteenth-century carriage maker. He raised 13 children there – it is a very big house! My great-great-grandfather and grandfather grew up here, and my grandmother celebrated her birthdays here (a local girl for sure).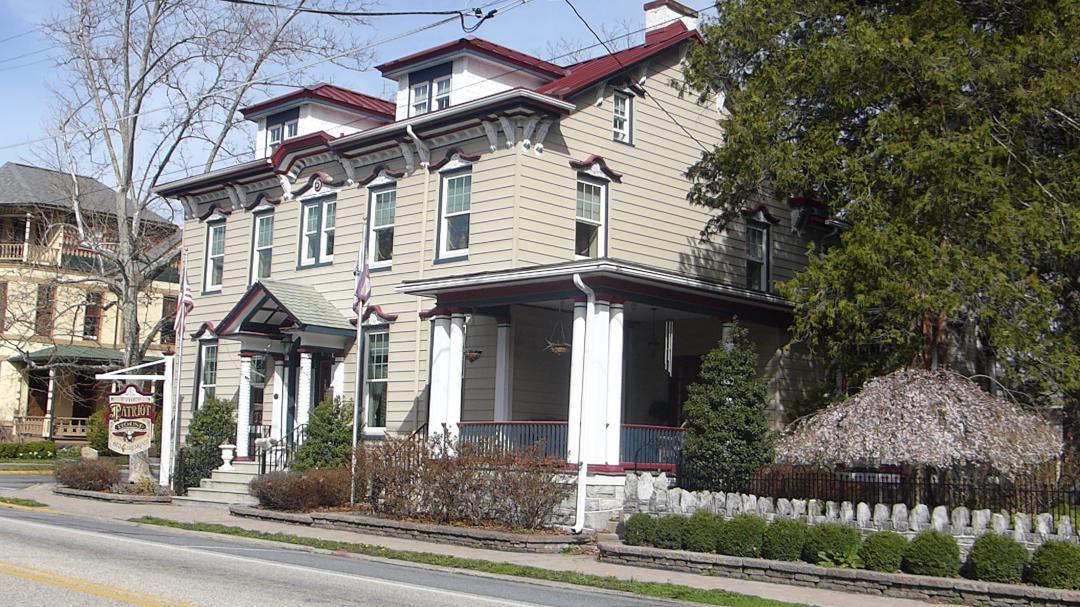 Patriot House B&B, Annville, PA
At Beth Israel, there was a beautiful reception ahead of my speech, which included as a lovely touch of bunches of pink and yellow roses – Maddie's wedding flowers from early in the book.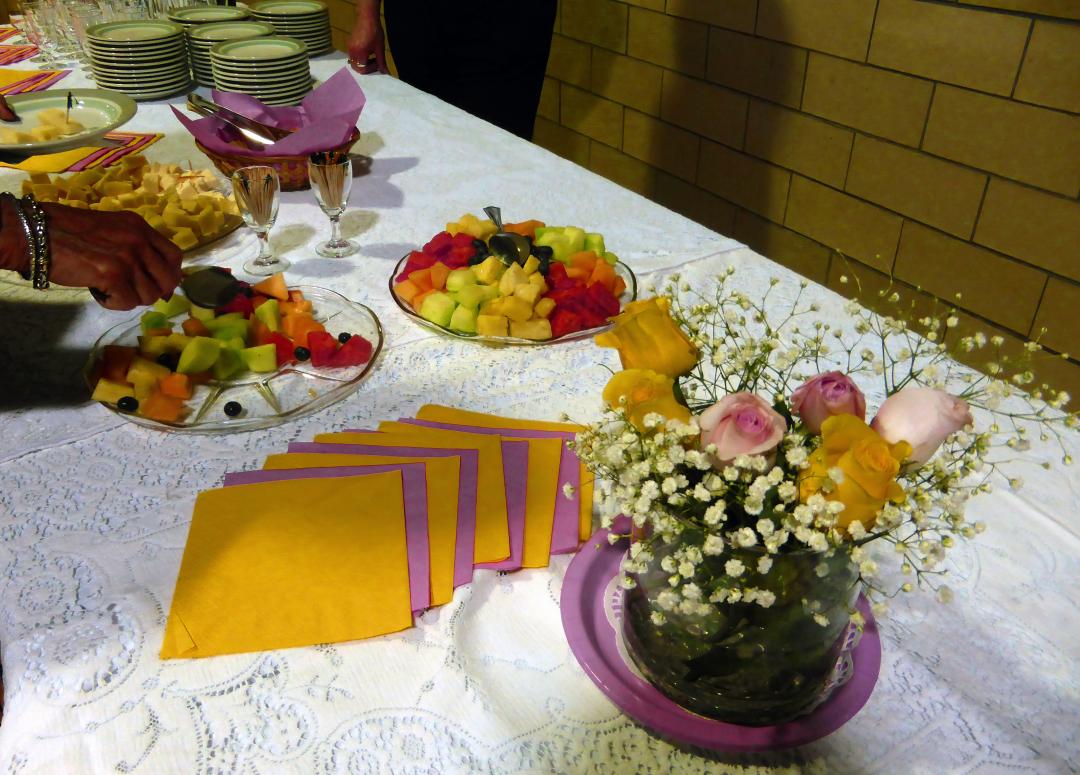 The really wonderful thing about this talk, and indeed about every talk I gave over the week, was that so many people had actually read Rose Under Fire. They were engaged and prepared and interested. I got asked about Americans in Ravensbrück, about prisoner escapes, and if I'd ever had any former prisoners or relatives of prisoners contact me as a result of reading the book. We talked about why the book is considered young adult fiction. (There were not many young adults in the Beth Israel audience, but there were a few.) We talked about how I use my academic training as a folklorist to enhance my fiction writing!
In between the big events, there were some friendly little ones – lunch with Karen Hostetter of the York Library system, who was instrumental in planning my visit, and Mary Ann Heltshe-Steinhauer, Community Relations Manager for the Lancaster Library System, who coordinated the events and liaised with the OBOC Committee.
Gift basket of local York County-made products!
There was a private reception at the Martin Library in York, where Chris Reilly, the York County Commissioner, welcomed and thanked me; the Mayor of York, Kim Bracey, sent me apologies and a "white rose" lapel pin! I spent an unscheduled hour with the Annville Free Library staff; had dinner with three of my favorite teachers from Harrisburg Academy, where I went to high school; and enjoyed a meal out with the staff of the Midland Scholar Bookstore in Harrisburg, and a signing there afterward. There was another big bunch of roses waiting for me at the Midland Scholar that had been sent by my fourth grade teachers from Steele Elementary School in Harrisburg, Miss Golob and Miss O'Brine!
Midtown Scholar Bookstore
The final event of the week, the Readers' Celebration, was a full afternoon in the departure lounge of the Reading Regional Airport (there were no departures going on but it felt faintly illicit to walk straight past airport security without anybody caring whether you opened your bags or kept your shoes on). Entertainment for forty or so guests included a lunch buffet, a slide show about Ravensbrück and the background to Rose Under Fire, informational displays and period and wartime artifacts, re-enactors in 1940s costume, and a silent auction – wow. When the Q&A and signing were finished, many of the visitors (including me and my aunts and uncles) drifted across the airfield to the Mid-Atlantic Air Museum for a tour.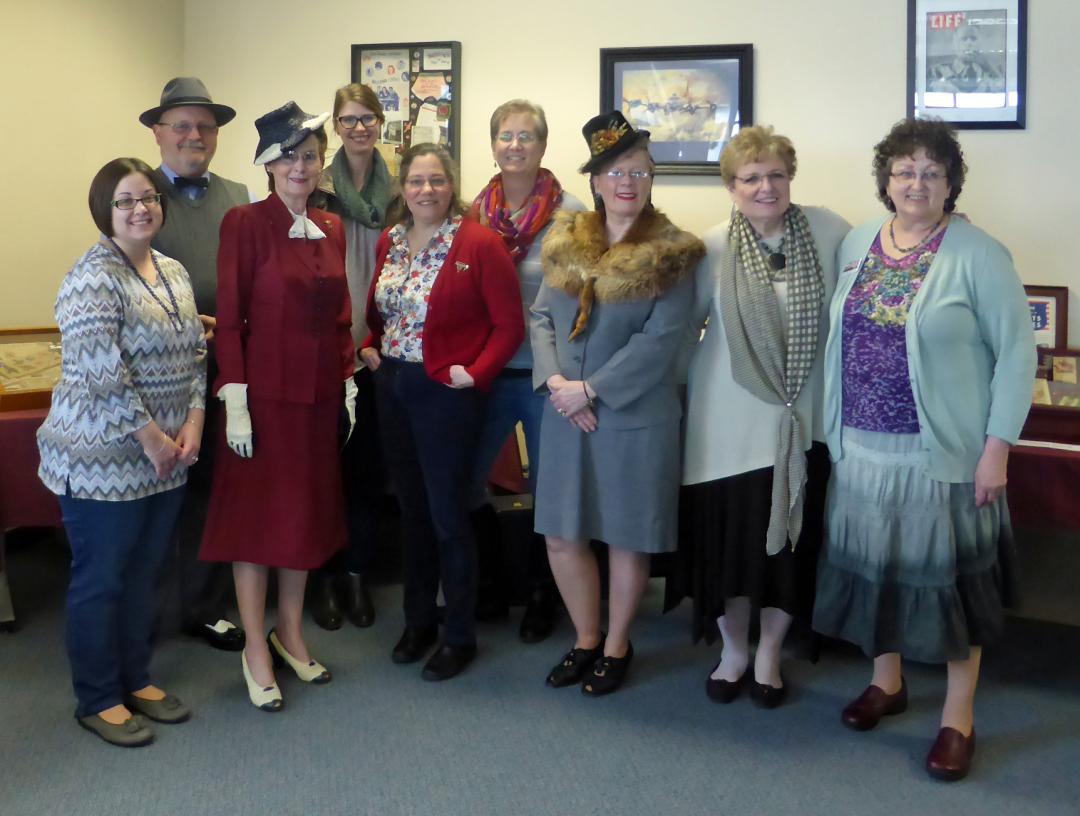 The OBOC Readers' Celebration team – Mary Ann and Karen are on the right.
The whole package was undoubtedly the most moving and exciting celebration of my writing I've ever experienced – the combination of me and my character both being local girls was a bonus, but the real reward was without a doubt the enthusiasm of everyone who participated in the OBOC read.
I am so, so privileged and grateful to have been able to share this week with so many friends, family, and dedicated readers. Thank you, One Book, One Community!
PS We sent written invitations for the Readers' Celebration to all our senators and representatives from the six or so inventively-shaped PA congressional districts represented by the OBOC community. None of them turned up.
PPS Here's an odd little feel-good story from Berks County – at the end of this video clip there is evidence of the small but far-reaching reverberations of how One Book, One Community helps to Tell the World.