I am incredibly lucky to have Disney Hyperion as a publisher. Someone once described them as giving you the attention and care of a small publisher – backed up by the juggernaut that is Disney Publishing Worldwide. (I use this as an excuse for my love of Disney animated films and The Lion King stage play: "Disney owns me!") One of the ways they continue to support me is that they've sent me on tour during the launch week for each of my last three books.
The Pearl Thief came out on Tuesday 2 May 2017, and for the rest of that week I did a whirlwind sweep across half the USA – starting in Washington, DC, taking in the suburbs of Boston and Chicago, and ending in Austin, Texas, on Friday 5 May 2017.
The wonderful bookstore Politics & Prose in Washington was the starting point for this tour. They have hosted me before, and this time indulged me in serving up birthday cake for my aunt Susan during a book signing. When I came in and introduced myself to the staff, the first thing they said to me was, "Your college roommate's parents are coming!" I said, "You know The Pearl Thief is dedicated to my college roommate!" and they said, "We know! Her parents are so proud!" Fortunately Betsy and Ron Sanders arrived a little early so I was able to chat with them (Helen, who lives in London and wasn't able to be there in person, had called them that morning to encourage them to go)!
And there was a mother/daughter team who'd just finished listening to Code Name Verity in the car that day. The girl was 13. Probably the greatest pleasure I get out of these visits is discovering people who share my books – and in meeting young people who love them. Encounters with 12 and 13-year-olds who'd read and enjoyed Code Name Verity turned out to be a hallmark of this trip.
Tuesday was a marathon, with a flight from Washington to Boston at 6 a.m., two school visits in the Wellesley area courtesy of Wellesley Books, and then a flight from Boston to Chicago at 6.10 p.m. But it was well worth the effort – talking to a group of middle school English and history students at Nashoba Regional High School in Bolton MA about women's roles in World War II and the women's concentration camp at Ravensbrück, and then addressing a large group of 7th and 8th graders at Wilson Middle School in Natick MA.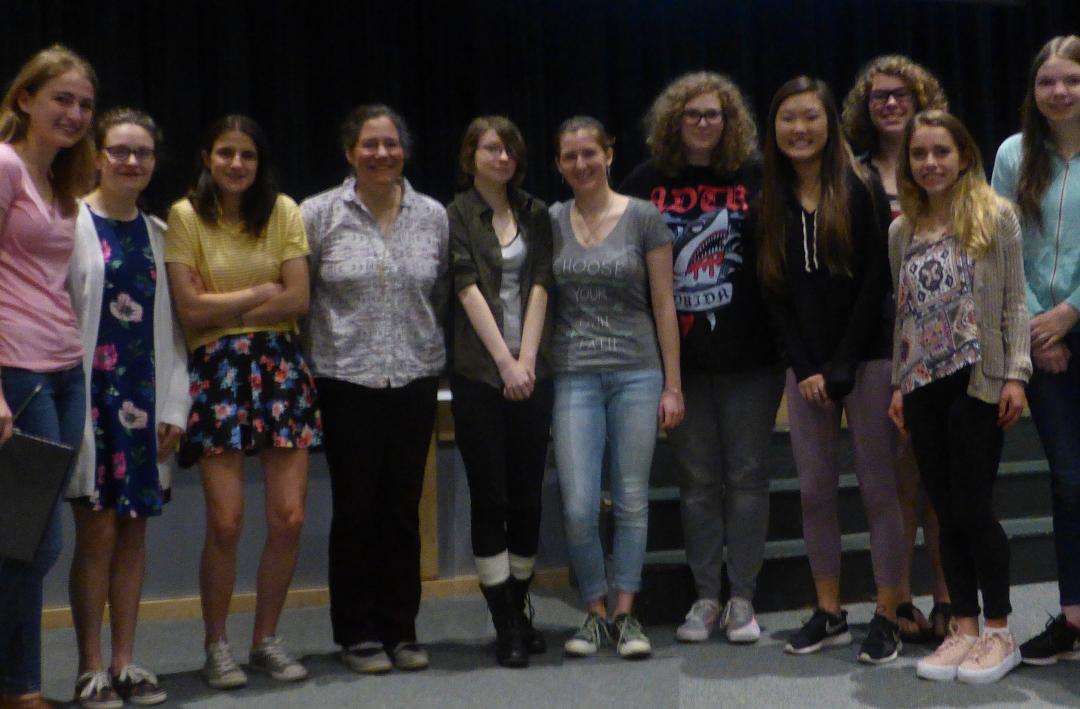 Nashoba Regional High School students
Some of the Wilson 7th graders had read and worked through Code Name Verity together and were anxious to ask questions about it – "Why did you use such a complex narrative structure?" and "Did you get confused trying to keep the plot and the timeline straight?" Plus a few more curious questions I hadn't heard before! "How old is Anna Engel?" and "What was the significance of Theo and Kim Lyons?" (For the answer to that, read my short story "Something Worth Doing" in Firebirds Soaring!)
These kids had done a great project on suggestions for working through problems in learning and reading comprehension, relying heavily on discussion and encouragement from others. I know, from previous experience, that Code Name Verity is a difficult book, but I have also learned that one passionate reader can often change the entire group's experience of the text. It was inspiring and gratifying to hear and see this very young audience working hard at understanding and appreciating a complex read, and I told them so. They said, "Thank you! Thank you! It is so great to be appreciated as intelligent readers!" (Man, I LOVE middle school readers. I really do.)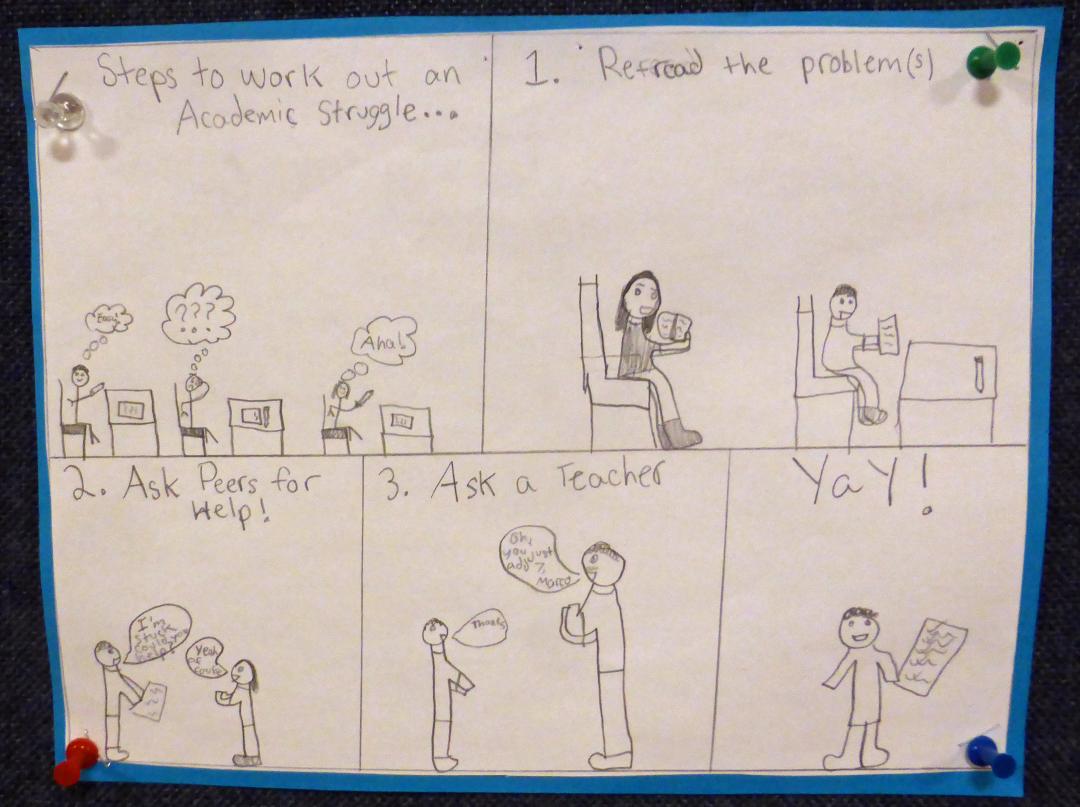 YaY! This upbeat little cartoon summarizes the 7th grade CNV book group's reading efforts.
The following day I visited two schools in the Chicago area: Harter Middle School in Sugar Grove IL, and Quest Academy in Palatine IL. The Harter School was having a Career Fair for the 7th grade and I was presenting as the Author (I am not sure who all the other presenters were, but I know that the Naperville Sheriff was there because there was a SWAT vehicle labelled "Sheriff" parked out front, as well as a travel agent and someone dressed in scrubs!)
At Quest Academy I did a presentation to a Language Arts and Social Studies class of 7th graders, but I also got to experience a cross-section of the rest of the school – the 4th grade was so excited about the idea of meeting an author that they were allowed to come and bombard me with questions during lunch ("Where do you get your ideas?" My standard answer to this is always "Star Wars," which cracks them up). And I got to see the pre-schoolers present their engineering play! My guides for the day were a gracious pair of 7th grade readers, Shambhavi and Allison, who together made a pretty amazing presentation to their class about my life and my books.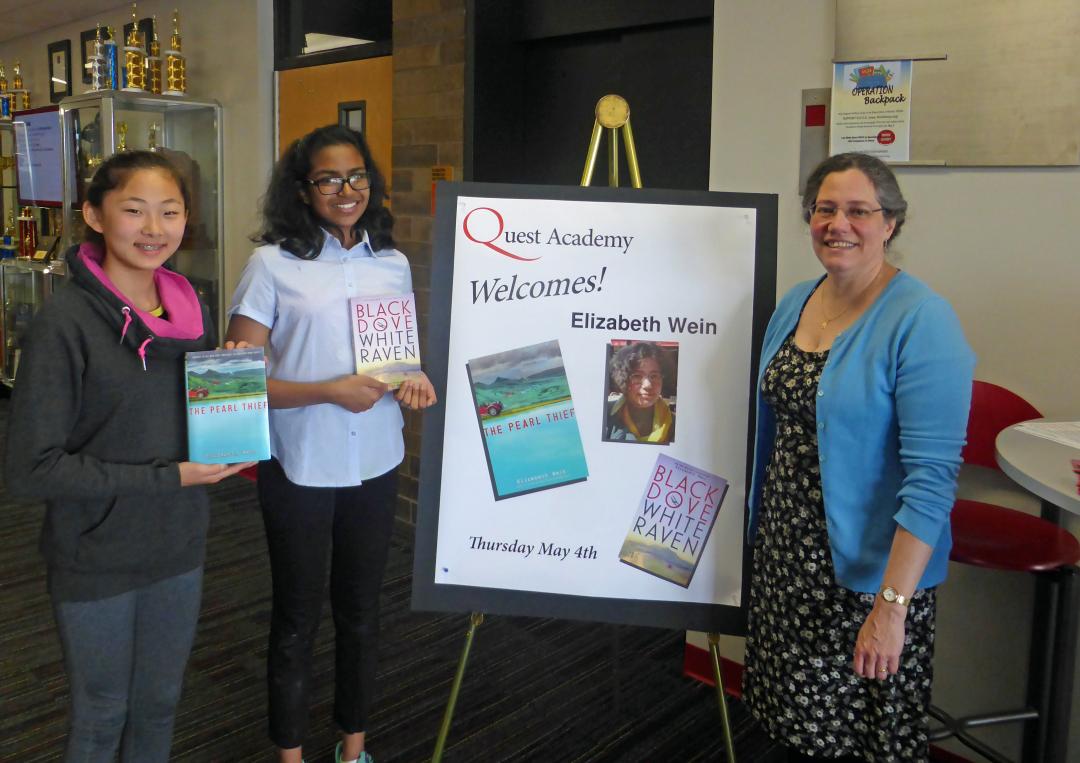 With Quest Academy guides Allison and Shambhavi
In the evening I gave a talk at Anderson's Bookshop in Naperville IL, who provided the books for the area school visits. This was fun because it ended up being very informal and intimate, as we all sat around a table together and discussed various literary matters (mostly relating to Code Name Verity). I was delighted to meet In Real Life a person I had done some online role-playing with ten years earlier! Drew Shilhanek, the Language Arts and Social Studies teacher who'd invited me to Quest Academy but who hadn't been able to be there that day, came along to this event; there was also a school librarian who shared with me that she'd used CNV as a means to convince the history teacher that young adult fiction had a valid place in the classroom. There were a pair of 13-year-old CNV fans here, too, a brother and a sister, whose presence – as always – made the whole event worthwhile.
I know it is kind of considered the kiss of death to have your book "taught" in class, but I have heard nothing but GOOD things from educators and students alike who are able to use fiction as a jumping-off point for learning both history and current events. And I think it is wonderful, wonderful that young adult literature is seen as such a valuable resource – and also that classroom readings, encouraged by open-minded educators, give kids a chance to engage with a book on their own terms. (Consider this tedious discussion of last August. Yeah, right, whatever. 7th grade readers are the front line in this battle, and it looks to me like YA is WINNING.)
Friday's events all took place at The Book People in Austin TX – starting off with a wine & cheese book club meeting where the book being discussed was (you guessed it) Code Name Verity. The group leader Meghan and her team had set up discussion stations labelled with different aspects of the book to get people going, but everyone kept congregating around me to hear the Official Line on "Is Maddie & Julie's relationship romantic or not?" and "Who switched their identity papers?" (both questions I don't have an official line on, because I love the debate and engagement it engenders to keep them open-ended). Eventually we gave up on the stations and just sat around in one big group until it was time for the public event in the main bookstore. There was another teen reader, Xander, at the book club meeting, and we'd met before on my Black Dove, White Raven tour in 2015!
The main bookstore visit took the form of a virtual tour of Scotland via PowerPoint. Questions were asked (including : "What do the Scots think of Brexit?") and books were signed, but the best part of the evening for me was when my high school friend Kristyn Leftridge turned up with my annual order of Girl Scout cookies! We then sat in the Book People café until closing time – catching up on everything, until we had to leave and continue our conversation on the balcony of my hotel room until half past midnight.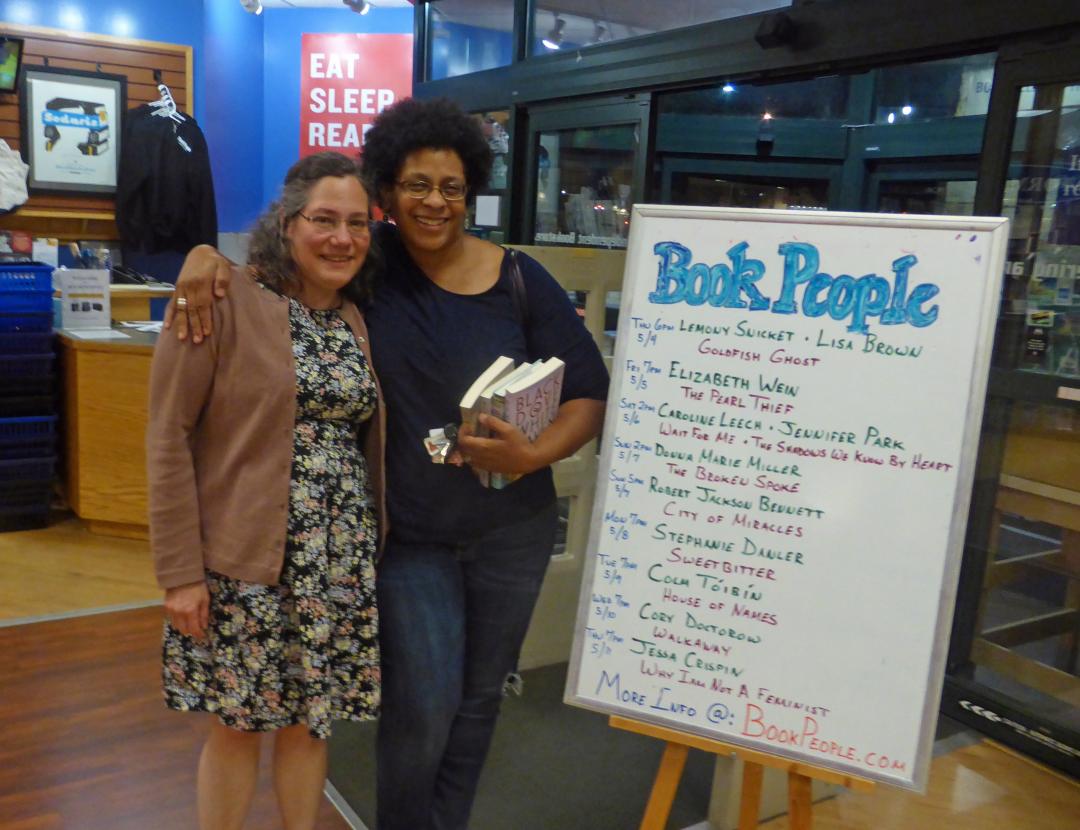 E Wein & Kristyn, another YaY.
And the next morning I was on my way back to Scotland!
I'm now recovered from my jet-lag and looking forward to the launch for Bloomsbury's UK edition of The Pearl Thief, which will be happening in the Perth Museum on Thursday 18 May 2017. You can register for this event here. My college roommate Helen is going to be there too. <3