My latest YA novel, The Pearl Thief, was released in the USA on 2 May by Disney Hyperion and in the UK on 4 May by Bloomsbury. To celebrate the UK release, we had a belated launch so close to home that we were able to walk to the venue. Mark and our neighbour Betty came along with me and Helen – my college roommate to whom the book is dedicated, who'd travelled up from London for one night so she could be there – it was a gorgeous evening for walking. Tim joined us when he got home from work. (Poor old Sara the film student was stuck in Salisbury.)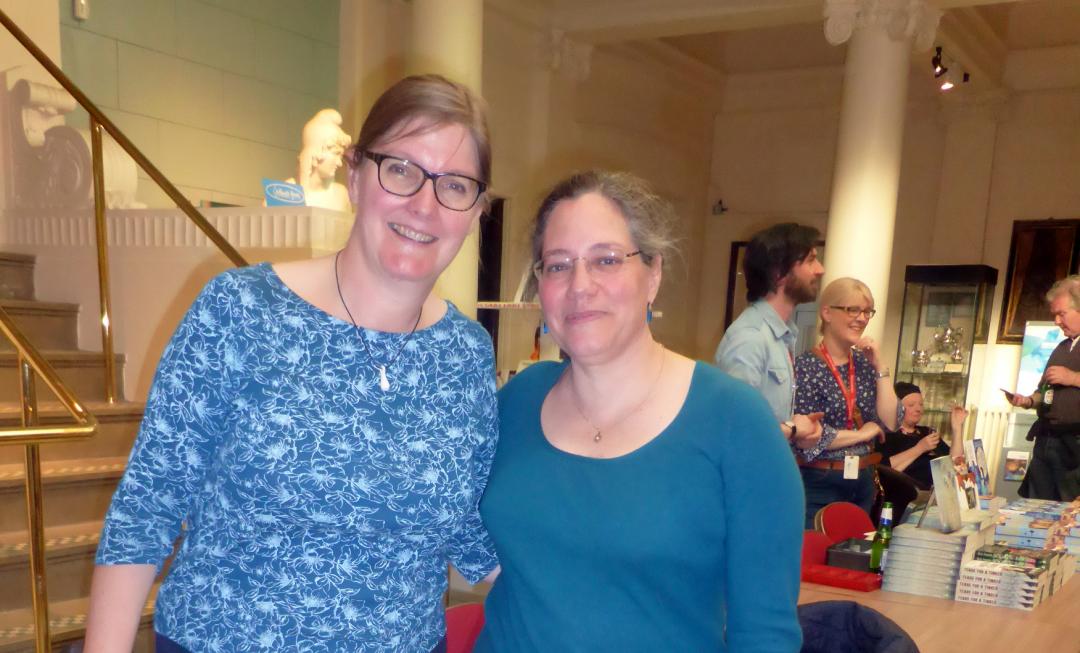 Helen & E Wein
The event was held in the Perth Museum. The Pearl Thief, a mystery and a coming of age novel featuring the title character from Code Name Verity, is set in rural Perthshire, and it felt most appropriate to connect the living and real local heritage to the fictional cultural landscape of the book. There was a little reception gearing up when we arrived at the museum – Lizz Skelly and Charlotte Armstrong from Bloomsbury Kids' had set everything up ahead of time with cooperation from the museum and Waterstones. At this point a ton of people I knew began to arrive – other writers, SCBWI folks, my book group from Perth, friends and neighbours, bell ringers – and Jess Smith, my co-star.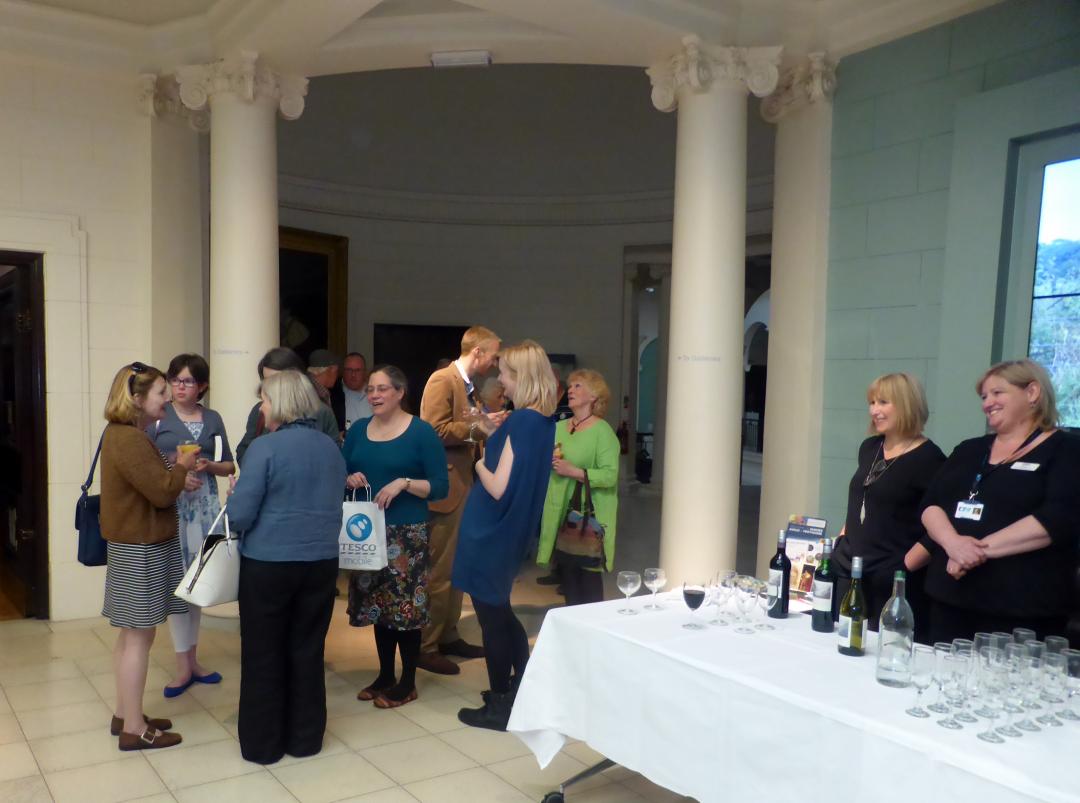 Left to right – a true assortment of guests: Alex Nye (author), Bess (student & reader) & her mum Lara Haggerty (Keeper of Books at Innerpeffray Library), Joan Taylor (Secretary for Friends of Innerpeffray and Mark & Sara's voice teacher), me, Gavin Lindsay (Perth & Kinross Heritage Trust), Lizz Skelly (Marketing, Bloomsbury), and Jess Smith (author & Traveller)!
For the launch, we'd dreamed up a panel event framed as a conversation between me and Jess, whose many books and whose background as a Scottish Traveller had proved invaluable to me in the creation of The Pearl Thief. Held in the museum's lecture hall, the event was moderated by Gavin Lindsay of the Perth & Kinross Heritage Trust, whom I'd met as a result of volunteering at the Moredun Top hill fort dig in September 2016. Jess and I had spent literally hours on the phone last year, but we'd never met in person, so this conversation in front of an audience filled with our friends and family was the first time we'd ever spoken face to face! We had complementary slide presentations – Jess's showed photographs of Travellers in the past, and mine showed contemporary Perthshire landmarks and vistas. The soundtrack to Jess's images was her poem "Scotia's Bairn," a lyrical tribute to a Traveller childhood in its difficulty and its beauty. We talked about history, and landscape, and the difference between writing fiction and non-fiction. Jess spoke of the prejudice she'd been subjected to as a child, and to which Travellers today are still subjected.
The conversation was thrown open to the audience toward the end to invite questions, and I was struck by the comment made by a cousin of Jess's, about how the cultural legacy of your heritage can affect you even when you aren't raised in the traditional circumstances or land of your ancestors.
Afterwards Jess and I both signed our books and were given many floral tributes from well-wishers and from Bloomsbury – I feel obliged to single out fellow writer and SCBWI member Sheila Averbuch. Not only did she grow her bouquet in her own garden, but she has now been shortlisted for Scotland's Gardener of the Year! She included the lilacs specifically with Rose's VE-Day lilacs from Rose Under Fire in mind. Sheila, incidentally, wrote a very thoughtful blog post of her own after the event, bringing together threads from her recent reading and themes that came up during my discussion with Jess.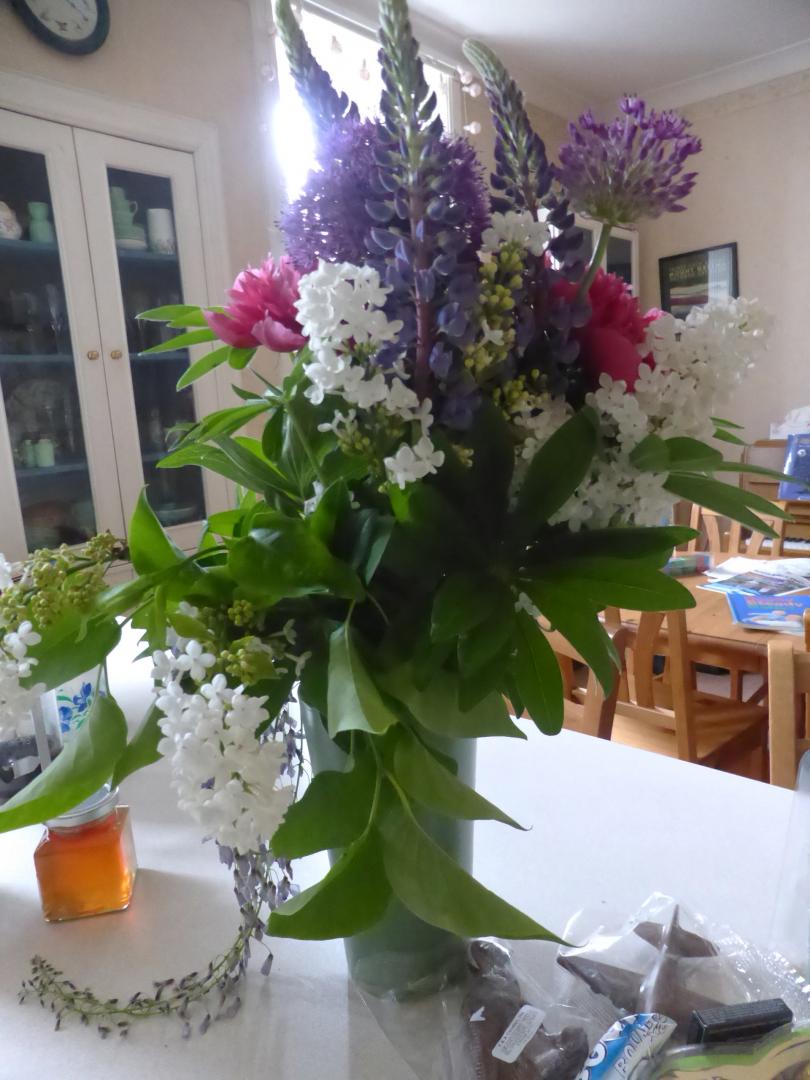 Sheila's flowers
The thing about the launch that really, really appealed to me in a million different ways was how self-referential to The Pearl Thief it was – often in ways I wasn't expecting. Gavin, who'd just begun reading the book, told me in such a deadpan voice that he'd driven over from Brig O'Fearn that I almost didn't catch that he was talking about a place I'd made up, having so accustomed my own ear to the place names of my imagination (the real village is called Bridge of Earn). Through a series of coincidences, one of the guests who came along was Lara Haggerty, the Keeper of the Innerpeffray Library – the oldest free lending library in Scotland (circa 1680) – and the one on which I based the imaginary Inverfearnie Library of the novel. (Also, coincidentally, Lara featured in one of my slides). And, in another complete coincidence, the Carpow Bronze Age log boat – on which the significant log boat of The Pearl Thief is based – had returned to the Perth museum for the first time in five years, where it is now on permanent display – Jess and I posed for many pictures in front of it!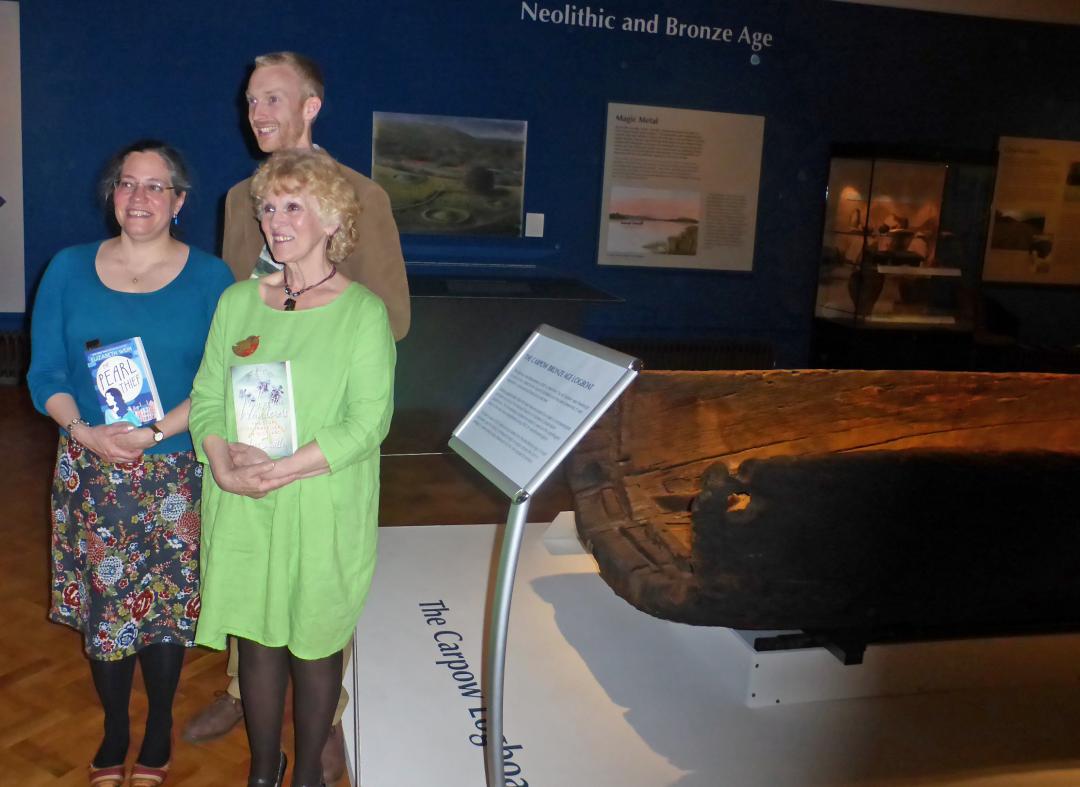 E Wein, Gavin & Jess with the Carpow Bronze Age log boat
I am so grateful to Bloomsbury, the Perth Museum, Waterstone's Perth, the Perth & Kinross Heritage Trust, Jess and Gavin and Lizz and Charlotte for pulling it all together – to Helen and everyone else who came to enjoy the buzz and the banter – and to Debby Harris and Elizabeth Kerner Ewing for wearing their pearls.
I really couldn't have dreamed up anything more appropriate if I'd been 15 years old again and wishfully imagining my future as a Scottish author.